Tour of Fear - UTICA
$

60.00
Sold out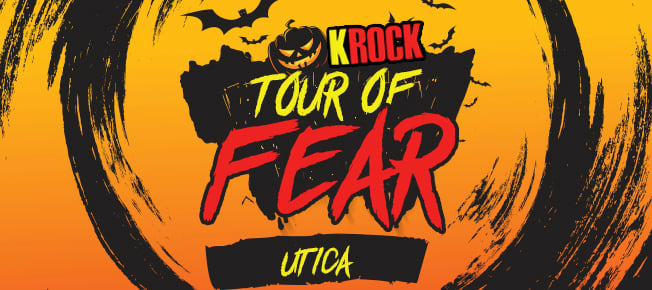 This Halloween season, for one night only on FRIDAY October 5th - KROCK is doing a tour of 3 Halloween haunts! Hale's Transportation luxury passenger bus will drive you to the stops - you just have to do the screaming! We cover the gas & tolls to get you
Details…
Date: Friday, October 5, 2018
Drop-off/Pick-up: Cayo Industrial (811 Broad Street, Utica, NY 13501)
What: Tour of Fear - UTICA, package includes round-trip transportation & admission to the following:
- CONTAINMENT, Shoppingtown Mall - Syracuse
- FRIGHTMARE FARMS - Fulton (2 attractions)
- CAYO INDUSTRIAL - Utica (2 attractions, Revelation & Biotech)
18+ to ride on the TOUR OF FEAR
Check-in 10/5 : 5:45pm @ Cayo Industrial (exact location TBD) & then we'll head to Syracuse for those attractions
You'll leave your vehicle at Cayo Industrial Horror Realm & we'll go back there to end the night
You will receive a wristband from a KROCK staff member to admit you to the nights attractions.
MORE INFO ON ATTRACTIONS....
CONTAINMENT: There has been rapidly spreading cases of a rare, brain damaging virus that is causing panic throughout Central NY, The Governor's Office instituted Martial Law and is requiring all citizens to bar themselves inside your homes, or seek your closest emergency shelter, your closest shelter by you is Shoppingtown Mall. Please bring only your bare essentials. death tolls are on the rise. Do not use the streets, as they are reserved for Emergency personnel only. MORE DETAILS: http://frightmarefarms.net/
FRIGHTMARE FARMS: It's a scream park that comes alive with the living dead at night! Filled with many different haunts, this is one of CNY's premiere places to get scared! MORE DETAILS: http://frightmarefarms.net/
CAYO INDUSTRIAL HORROR REALM: Now it's your turn. Walk through actual cells, become a prisoner of your own fear, see another side of yourself, realize the blessings of insanity, leave yourself behind. 16 years of Cayo Industrial in Utica & it's the scariest place around with four indoor horror mazes - one big INTENSE indoor Halloween attraction! MORE DETAILS: http://www.cayoindustrial.com/
A general bus waiver will be required by passenger to sign when you get on the bus but it includes: 1) alcohol / food consumption to be kept to a minimum, please be respectful of the bus - no glass containers. In-ability or abuse of this privilege will lead to an additional fine for cleaning 2) If your alcohol consumption impairs your ability to walk you will no longer be allowed to be on the bus 3) Strict no smoking / drugs (of any kind) policy - no E-CIGS on the bus…. Breaking any of these easy-to-follow rules, may result in your removal from the bus. So just plan on having fun, but behaving & following these rules.
Purchase is NON-REFUNDABLE
Please make sure when you purchase your package, you fill out all info with phone number & email so we can be in contact to verify your pick up location.
If you have any additional questions please email krockpd@galaxycommunications.com or call Marissa 315-472-9111