ROCK Bus - Breaking Benjamin
$

40.00
Sold out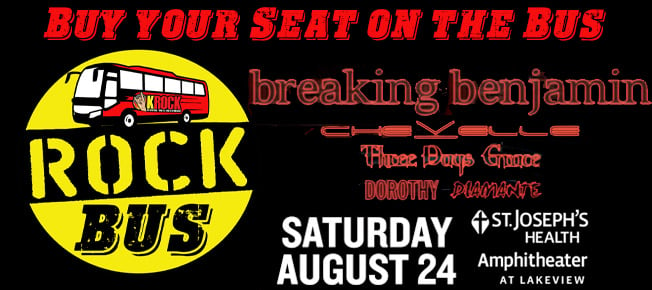 We're taking the ROCK BUS on the road from UTICA to the St. Joseph's Health Amphitheater at Lakeview on Saturday August 24th to go to the Breaking Benjamin / Three Days Grace / Chevelle concert! The Hale's Transportation 55 luxury passenger-bus will bring you to & from the concert, we will do the driving so you can enjoy the ride ( & you don't have to worry about parking in at the Amp / traffic / gas / tolls)
Details…
Date: Saturday August 24th, 2019 (**note this is during the NYS Fair)
Where: St. Joseph's Health Amphitheater at Lakeview, Syracuse NY
What: Breaking Benjamin / Three Days Grace / Chevelle / Dorothy / Diamante
What you get: Package includes round trip transportation for one person + one LAWN ticket to the show... we also have a LIMITED number of seats of JUST the ride & you provide your own ticket.
21+ to ride on the ROCK BUS
Ride w/ Ticket Package per person: $ 40
Ride ONLY Package per person: $20
THERE ARE NO LIVE NATION SERVICE FEES, you don't pay gas, tolls or parking!
Utica Departure 8/24 : TIME TBD @ 72 Tavern & Grill (400 Oriskany St W, Utica, NY 13502)
You'll leave your vehicle at the 72 Tavern & be returned to the same location at the conclusion of the trip.
If you purchase the ticket package, you will receive your concert ticket when you arrive at the bus stop 8/24 from a KROCK staff member.
A general bus waiver will be required by passenger to sign when you get on the bus but it includes: 1) alcohol / food consumption to be kept to a minimum, please be respectful of the bus - no glass containers. In-ability or abuse of this privilege will lead to an additional fine for cleaning 2) If your alcohol consumption impairs your ability to walk you will no longer be allowed to be on the bus 3) Strict no smoking / drugs (of any kind) policy - no E-CIGS on the bus…. Breaking any of these easy-to-follow rules, may result in your removal from the bus. So just plan on having fun, but behaving & following these rules.
Purchase is NON-REFUNDABLE
Please make sure when you purchase your package, you fill out all info with phone number & email so we can be in contact to verify the week prior to the event.
If you have any additional questions please email [email protected] or call Marissa 315-472-9111
The KROCK ROCK BUS is presented by Bud Light Orange & Bud Light Lemon Tea